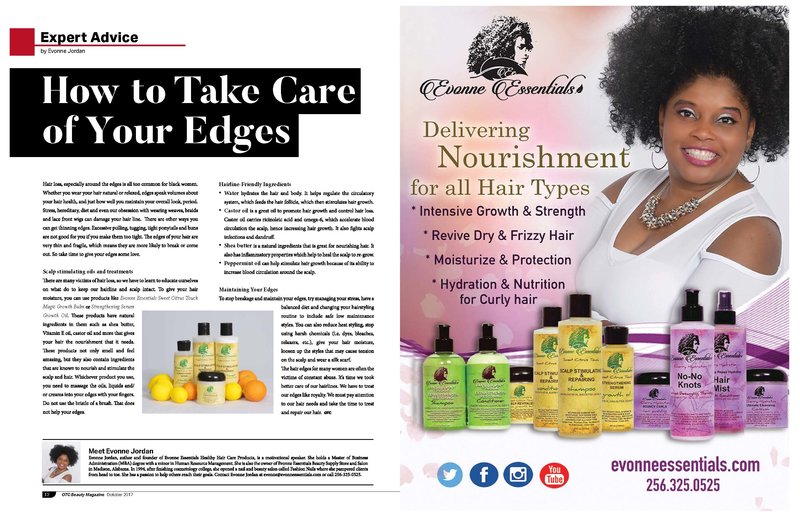 Weak, Damaged, Dry Scalp & Hair Loss Is a common complaint. We realize this happening to people for many reasons. If you are going through this despairing problem. Evonne Essentials hair care lines targets those problems. Our Healthy Hair Care line quenches your natural curls in an instant. Our amazing Restoring and Scalp Stimulating lines are the perfect solutions for your damaged hair and hair loss issues.

Hair is beautiful, whether it is natural, relaxed, or braided. The key to healthy beautiful hair is moisture and treatment. Without these, hair can become dry and brittle. Caring for hair takes a little bit of extra effort, but to get soft, silky, healthy hair results it's worth it.
Wash your hair once every 1 to 2 weeks. Use a moisturizing shampoo Vanilla Mint Tingle Shampoo for dry or slow growing hair. Follow up with a moisturizing conditioner Vanilla Mint Tingle Conditioner.
If you must wash your hair more often use Evonne Essentials Cherry Hydration Co-Wash.
Comb carefully using a wide tooth comb. Always start from the ends of your hair first; never comb straight down from the roots. Avoid using brushes, as they will only make your hair frizzy. Lastly, avoid combing your hair everyday; detangle it when necessary with your fingers. Excessive combing will break your hair off.
Make sure your hair is slightly damp before you detangle. Hair is very vulnerable when wet, so if you just washed it, let it dry a little first.
Consider using a comb attachment when blow-drying your hair. Let your hair air-dry a little first, when gently blow dry your hair using a comb attachment. With will reduce the amount of pulling and tugging, which can lead to breakage.Instead of air drying, you can also sit under a dryer



Learn about the science and love that goes in to each and every product Evonne Essential offers. We will also keep you up to date of up coming specials and new product as well.